Jason Kleinschmit, Field Superintendent for Jans Corporation, has been recognized as a Patriotic Employer. The award is given to employers for supporting employee participation in America's National Guard and Reserve. Jason was nominated by Jans Corporation's Superintendent, Dave Hoines. Dave is a Captain with the 196th Movement Enhance Brigade in the South Dakota National Guard.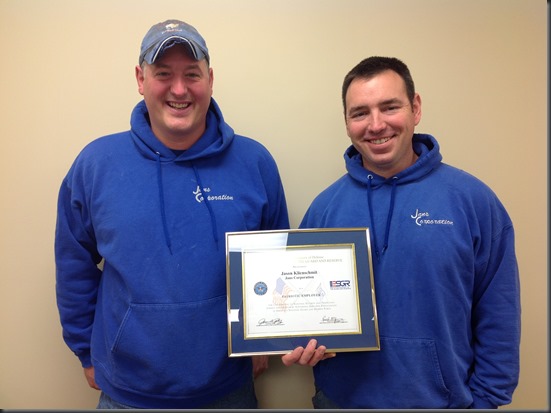 Picture from Left to Right: Dave Hoines, Jason Kleinschmit
Jans Corporation is currently the Construction Manager of the Horizon Health Care Clinic in De Smet and working with the city of De Smet on a new Community Center.
Jans Corporation is proud to be working with SFAHS. We are thankful for the opportunity and excited to support SFAHS's commitment to providing "A Haven and Human Voice for Animals in Need". 
Click here to learn more about the Sioux Falls Area Humane Society.
Click here to visit the Sioux Falls Area Humane Society's Facebook Page.

Jans Corporation thanks First Dakota Title in Downtown Sioux Falls for the opportunity and privilege of constructing the new 3rd floor addition to your current office building.  We look forward to working with you!