"The Longfellow Center is a great example of how investing in historic structures in Sioux Falls can make such a positive difference," says Mayor Mike Huether. "The Mayor's Historic Preservation Award is a small but important way to recognize those who worked tirelessly to preserve this beautiful building."
Click here for the full story.
Thank you to the following employees for your hard work and dedication to Jans Corporation:   Jeff Jackson – 4 years, Daniel Kilbride – 22 years, Tommy Kopp – 1 year, and Ron Wardlow – 2 years.
Jans Corporation is pleased to announce and excited to welcome our new assistant project manager, Mitchell McCranie.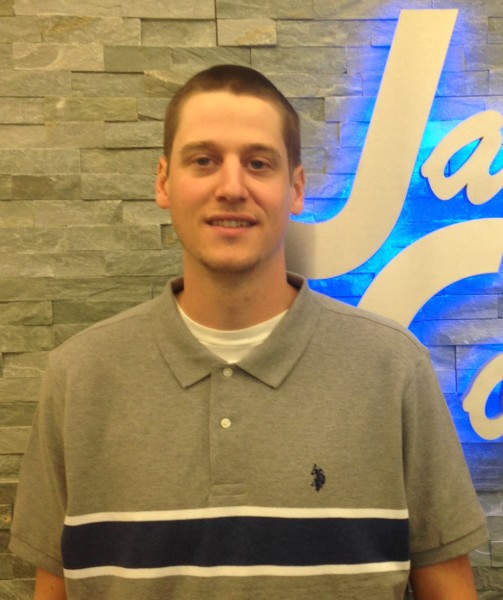 South Dakota Employer Support of the Guard and Reserve (ESGR), a Department of Defense (DOD) program, announced today that Brian Jans and Jason Kleinschmit with Jans Corporation were honored with a Patriot Award in recognition of extraordinary support of their employee serving in the South Dakota Guard and Reserve.
The Patriot Award was created by ESGR to publicly recognize individuals
who provide outstanding patriotic support and cooperation to their employees, who, like the citizen warriors before them, have answered their nation's call to serve. Jans and Kleinschmit were nominated for being highly supportive of the National Guard by their Reserve Component employees, SSG Matt Kleinschmit, 211th En Co, and Maj David Hoines, HHB 1BN 147th FA. Supportive supervisors are critical to maintaining the strength and readiness of the nation's Guard and Reserve units.
Matt and David nominated Jans and Kleinschmit for this award to thank them for supporting their duties in the National Guard, including flexible schedules, time off for inspections and training time, and allowing them time to care for their family of soldiers as well as their own family at home. Their support is invaluable and allows them to focus on their training while they are serving in the National Guard without worrying about how things are going back at work. It's a lot to ask of an employer, and they are grateful that Brian, Jason, and Jans Corporation, supports them in this way.
ESGR, a Department of Defense program, seeks to foster a culture in which all employers support and value the employment and military service of members of the National Guard and Reserve in the United States. ESGR facilitates and promotes a cooperative culture of employer support for National Guard and Reserve service by developing and advocating mutually beneficial initiatives, recognizing outstanding employer support, increasing awareness of applicable laws and policies, resolving potential conflicts between employers and their service members, and acting as the employers' principal advocate within DoD. Paramount to ESGR's mission is encouraging employment of Guardsmen and Reservists who bring integrity, global perspective an
d proven leadership to the civilian workforce.
For more information about ESGR outreach programs, or ESGR volunteer opportunities, please call 1-800-336-4590 or visit www.ESGR.mil.
SIOUX FALLS, S.D. – Brian Jans and Jason Kleinschmit with Jans Corporation accept a Patriot Award in recognition of extraordinary support of its employees serving in the South Dakota Guard and Reserve.  Pictured L to R: Matt Kleinschmit, Brian Jans, Jason Kleinschmit, Dale Jans, David Hoines.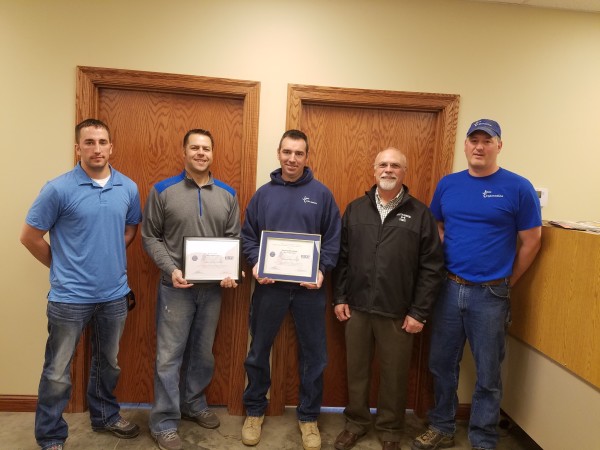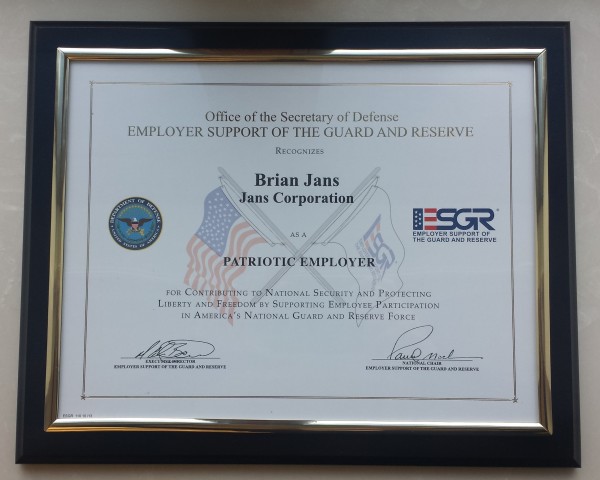 Thank you to the following employees for your hard work and dedication to Jans Corporation:   Regan Duvall – 1 year, Jason Kleinschmit – 12 years, Richard Lewis Jr. Moss – 2 years, Kelsey Schilling – 2 years, and James Sweetwood – 18 years